Non-denominational WNY Wedding Officiant
Hi I am Rev. Denise Metzger and I am an all- denominational minister who has been ordained through SANCTUARY OF THE BELOVED, CONESUS LAKE, since May 1997. I really enjoy sharing in the planning of your special day! I have lots of poems, readings, special additions to your day such as sand, wine, rose, unity candle ceremonies, handfasting, etc. Let's have coffee and see if we are a good match. Together we will design a ceremony just for the two of you! No 2 wedding ceremonies alike!

I have lots of referrals for wedding venues and services. Let me know if you need help with anything else, like music, photographers, location, etc. Perhaps you are having an anniversary renewal or a committment ceremony! I am also available for baptisms, baby blessings, Celebrations of Life, Funerals/Memorials, pet memorials, counseling, visiting sick
members of your family, end of life decisions, etc.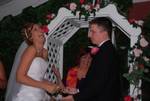 Your wedding can be spiritual or not. You can have humorous poems and readings, serious, formal , you name it! Just let me know how I can help you!
SOME REFERENCES: Susie Hume~

Choosing a
wedding officiator
is such an important decision because they're such an integral part of your special day. I am so happy that we decided to choose Denise . She makes it known from the very beginning that she cares about you as a couple, your history, your vision for the
wedding day
and she incorporates all of those details to give each couple an extremely personalized and memorable ceremony. There are many moments of your wedding day that will fade a little bit each day, but if you choose Denise to officiate your wedding, you can be sure that it will be a lasting and
precious memory
.
Look for me on FACEBOOK, TWITTER as DENISE METZGER and my SPIRITUAL COUNSELING PAGE on FB.

TWEET me: <a href="http://twitter.com/share" class="twitter-share-button" data-count="vertical" data-via="DeniseMetzger">Tweet</a><script type="text/javascript" src="http://platform.twitter.com/widgets.js"></script>